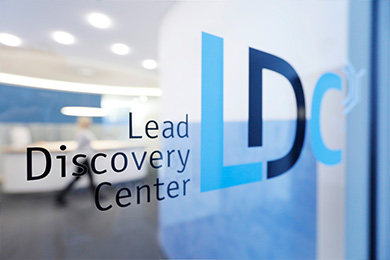 Affiliated Companies
LDC holds equity in several biotech companies. Two of them were founded in order to accelerate further development of promising LDC project results. Others are platform technology companies that benefit from LDC's drug discovery expertise and professional network
Hit Discovery Constance GmbH (HDC)
With dedicated expertise, infrastructure and a compound library of more than 200,000 compounds, the HDC offers high-throughput screening (HTS) services to a broad range of clients. The HDC team has extensive experience in HTS and compound management from previous positions at Roche, Altana, Nycomed and Takeda. The company was formed as a joint venture by LDC, Axxam SpA (Milano, Italy) and CD3 (Centre for Drug Design and Discovery, Leuven, Belgium). It is based at the former research Campus of Nycomed/Takeda in Konstanz, Germany.
https://www.hit-discovery.com/de/start/
Affectis Pharmaceuticals AG
Affectis is a pharmaceutical company developing a P2X7R antagonist for the treatment of neuroinflammatory diseases and additional indications. Affectis is a wholly owned subsidiary of LDC.
http://www.affectis.com/
UGISense AG
UGISense AG is a biotech company developing new and innovative antisense therapeutic agents in collaboration with academic and industry partners. The developments are made on the basis of a proprietary platform technology, the UgimersTM.
https://www.ugisense.com/de/
Pearl River Bio
PearlRiver Bio, a company funded by Medicxi, was founded by LDC and academic key opinion leaders from the Universities of Cologne and Dortmund, aiming at developing next-generation inhibitors targeting difficult-to-target mutations of the ERBB family of receptor tyrosine kinases in cancer.
QLi5 Therapeutics GmbH
Dortmund-based QLi5 Therapeutics has been founded by LDC together with the Nobel laureate Prof. Dr. Robert Huber from the Max Planck Institute for Biochemistry, Martinsried, Germany, Max Planck Society, as well as Qurient, Gyeonggi-do, South Korea, with the aim of accelerating novel first-in-class proteasome inhibitors.
Serengen GmbH
Dortmund-based Serengen has been founded as a joint venture between the main shareholders LDC, Taros Holding GmbH, Dortmund, Germany and Dr. Andreas Brunschweiger, a leading expert in the generation of innovative DNA-encoded compound libraries. Serengen provides access to novel DNA-encoded chemistry and a screening platform for DNA-encoded libraries.